Seriously though. Do you not think it's time to talk yourself out of becoming a self-proclaimed, TikTok Green Thumb overnight?
Not too sure what I'm getting at? Decluttering.
It's time to have a clean-up and remove all those items that are simply creating clutter in your home, even your dead houseplants that are long gone. I mean there's nothing attractive about them now, surely?
Clutter and untidiness can have significant effects on the appraised value of your home, in conjunction with current market conditions, the number of interested buyers, and the location.
Some of the benefits of decluttering prior to your home appraisal or having it put on the market are endless.
Increases the value of your home – think more pretty pennies in your pocket.
Makes your home look bigger.
Inspires buyers' imagination – allows prospective purchases to envision themselves living in your home, which can then lead them to place a higher value on the space.
Less distractions – ensure that prospective buyers are looking at your home and all that it is in its entirety. Rather than your junk and clutter, which can often be a complete turn-off to prospective buyers.
Easier to clean afterwards.
Easier to

stage your home for photos

.
More appealing.
It's normal to be confused with knowing what exactly clutter is. Like, 'is my vacuum laying on the floor in my hallway, clutter?' Or, 'are the stack of newspapers on the lounge room floor, clutter?'
Given, that clutter is anything that makes a space look untidy or messy, then yes, it's both.
When it comes to decluttering, it's time to turn on your 'minimalistic vision', meaning to look at things practically and critically when cleaning. Removing every little detail, and anything that doesn't belong.
Can you imagine what a 20 minute clean would do this to this living room? 20 minutes to throw rubbish in the bin, put clothes in the wash, shoes in the cupboard, straighten the couch cushions and fold the throw rugs, vacuum and mop the floor, would make this space look completely in-order and 100% more appealing.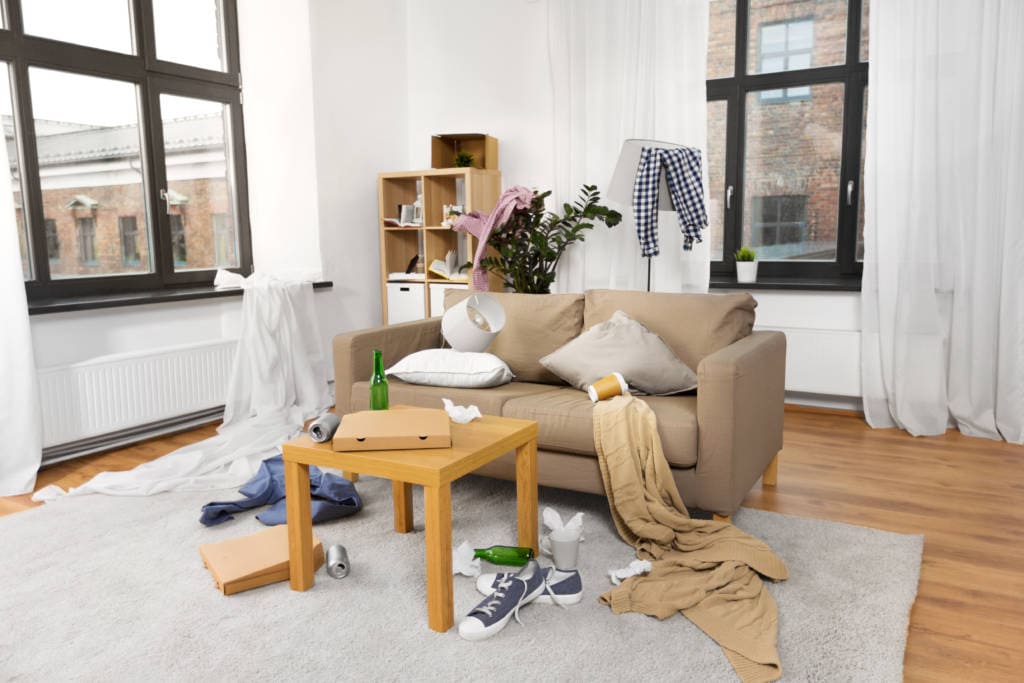 Whilst most of the items in this living room are valuable and shouldn't be thrown away, it's still clutter – items which don't belong. Yet we could still look at things even more critically, by inspecting the items on the shelves at the back of the room for example.
Do you still really need that birthday card from your work colleague 3 years ago? Or, the 16 pens which you've placed there, instead of in the office? Guaranteed that at least 6 of them don't work anymore. And, let's be honest that house plant on the second shelf is well and truly dead. You need to stop telling yourself that you're going to become that 'TikTok self-made Green Thumb' overnight to revive it.
Be honest with yourself!
Ask a friend to come over and help you to de-clutter, by offering their honest opinions.
Take a photo of every single room in your home, circle items which make the room look messy and out of order, and then remove and put away those items.
Don't move around. Do one room at once and don't shift your clutter from one room to another, unless that's where it belonged, originally.
Group your items together. Sometimes it might be easier to group certain items; sell, store, fix, dispose, and donate, and then you can work through each group of items, at a time.
Don't leave a huge 'giveaway' pile in one room for weeks on end.
Storage Boxes. Invest in storage boxes, especially if you're wanting to clean up but aren't downsizing. Store items away that you don't use very often, or break items up on a seasonal basis, store them on-top or beside each other.
So if this blog has inspired you like never before to put your cleaning shoes on and get down and dirty, I'm glad!
Once you've found yourself becoming low-key obsessed with your new clean home, if you list and sell your home through Rise Real Estate before 31 May 2021, you'll automatically go into the draw to WIN a free Pantry Makeover valued at $1,500.00 from Simplify my Home.
Apply for a free home appraisal or to list your home and go into the draw to WIN!